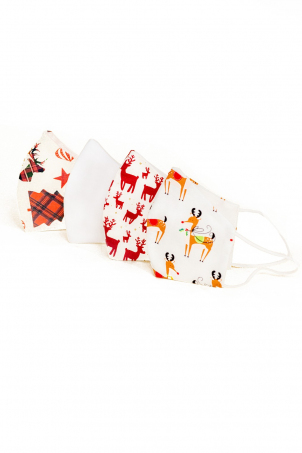 +
Set 4 x Protective Face Mask Reusable, 100% Cotton, Kids and Adults, REINDEERS DECO
Story line
Details
Fabric care
Facial mask for the whole family, designed for multiple uses. Made in our workshop, made of 100% cotton, the mask has an anatomical shape and is attached with 2 elastic bands behind the ears, with an adjustment system. The family sets consist of 2 adult masks and 2 children.
Please read the "Details" tab!
Dimensions:
Kids 10x8 cm (3.94 x 3.15 inch)
Adults 14x11 cm (5.51 x 4.33 inch)
Fabric: 100% bbc, 3 layers
This type of mask is not a certified medical device and does not replace the medical mask with special filters!
It also does not constitute a complete barrier against bacteria and viruses, but it is recommended as an additional protection, to reduce the risks, especially in the case of exposure to communities.

It is recommended to wash the mask after you buy it, as well as after each use, in hot water, at least 60 degrees, with detergent, manually or in the washing machine. It will be ironed and dried well before use.

*Dear customers, due to the high volume of orders, fabric patterns sold out quicker than we expected so some of your items might be substituted with similar color patterns. Thank you for your understanding and stay safe!