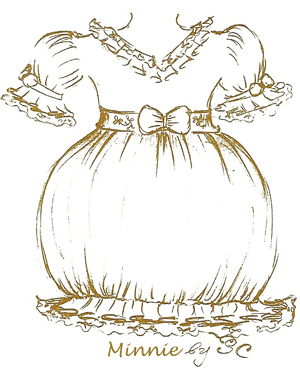 "…Once upon a time there was a little, little baby, who, although he had just appeared to the world, was to pass through the Sacrament of Baptism or, as some modern parents use to say, the scuba diving championship in the baptismal font…And because baptism is an important event, the first one when the little baby comes out in the world and meet relatives and friends, both parents and godparents wanted the little baby to be as chic as possible…That is how appeared the `Petite Coco` clothes, the first special outfit for the little baby!
Made with imagination and care for children, our clothes dress ballerinas and princesses, knights, little generals and lords, musketeers, and other future high dignitaries and very important persons. Along with the clothes, we also created lacy and elegant christening layettes. And since the little baby needed further special clothes, we continued our work as the baby grew older. Thus Petite Coco has become a wonderland that accompanies and brightens the first years of childhood…"

Petite Coco creates special occasion clothes for little kids, being a fashion house dedicated especially to children under 5 years old. We reinvent the world of fairytales, of princes and princesses and reinterpret the clothes for children, proposing special occasion clothes for little girls and little boys.
Petite Coco was born at the beginning of 2010 out of the wish to offer a line of very elegant christening clothes inspired by tales with princes and princesses. Although the concept was quickly generalized, we continue to come up with two annual collections, always looking to surprise, to bring new lines and ideas, in a word, to suggest trends in the industry of special occasion outfits for kids.
Originally, Petite Coco only created baptism clothes and matching layettes. Now we have clothes that can be worn at any occasion, wherever parents want take their children and enjoy their angelic presence in funny royal costumes. Little dresses for the most beautiful bridesmaids, suits for best men, outfits for the baby's first haircut ceremony, kid's birthday parties or just precious gifts that can be offered on special occasions.
Petite Coco clothes are crafted with great care, with fine details, attention to the fabrics, stitching and accessories that come in contact with the baby's skin.
Fine silk, cotton, satin, precious lace and embroidery, special ribbons and trimmings are carefully selected from the wide world and combined in surprising cuts.
All clothes are handcrafted in Romania in very small series or on order and all our models can be modified in order to meet the imagination and wishes of parents or of clients who order them for their dear little children.
We could only make clothes for children, but we think that the story is really important, and the details matter, even though it all requires a long time.
*