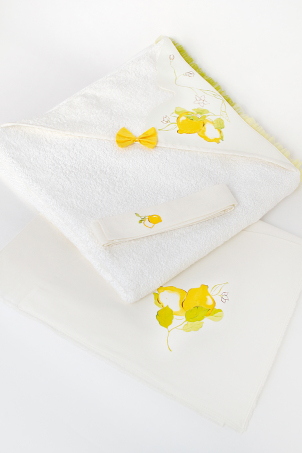 +
Lemonade Trousseau - Christening Baby Set
Story line
Details
Fabric care
Christening set for babies, with a big hooded baby towel, an unhemmed hooded oil sheet and a swaddling ribbon. The towel has one edge decorated with a delicate yellow and green tulle. The fabric is hand-painted with waterproof special textile paint.
The towel and the oil sheet can be embroidered with the baby's name.
Dimension: 
- towel: 140 cm x 70 cm.
- oil sheet: 100 cm x 140 cm.
- ribbon: 5 cm x 140 cm.
Composition:
- towel: 100% cotton;
- oil sheet: soft cotton fabric.
All the elements of this set can be hand washed in 30° C water (or below), but they are already disinfected by high-temperature ironing.